Why See A Prosthodontist?
If you are like most people, then you want healthy sparkling teeth and perfect gums. Not only do they make your pictures look better, but they also help boost your self-confidence in a major way. What is better than a perfect smile?
Unfortunately, no one is immune from dental problems. Whether you have naturally widely-spaced teeth or you accidentally lost a tooth, most of us will have a reason to seek medical dental care. Knowing the right specialist to visit is pure bliss.
Here, you will learn about a significant dental care specialist; the prosthodontist. You will also understand when you need a Prosthodontist and how to access one in New Jersey.
What is a Prosthodontist?
A Prosthodontist is a health professional who specializes in providing care for complex dental problems like dental implants, jaw disorders, etc. They are specially trained to fix damaged teeth and replace missing ones. Prosthodontists require 3 extra years of dental school compared to a general dentist. During the additional dental school and residency training, they learn advanced and cutting-edge dental medicine techniques to help restore damaged or missing teeth.
A prosthodontist is certified by the American Dental Association to design, create, and fit all types of prosthetics to restore missing or damaged teeth and oral and maxillofacial tissues. A prosthodontist has gone through rigorous training to address complex cases and treatment planning.
Prosthodontists also engage in extensive cosmetic dental treatments. Prosthodontists are trained in the arts of advanced dental medicine techniques and restorative treatments.
Install porcelain veneers, dental crowns, dental bridges, and braces
Provide dental implants, composite fillings, and gum reshaping
Provide total dental makeover
Conduct oral surgery
Provides jaw bone treatment
Orthodontics, dental bonding, dentures, and gum grafts.
treating complex dental conditions
Prosthodontics is the branch of cosmetic dentistry that focuses on restoring missing teeth and other related tissues.  It is the process of fixing dental issues often through the use of fixed or removable prostheses (bridges, crowns, dentures).
When should you visit a Prosthodontist?
Your dental health is crucial to your overall well-being. Your teeth are as important as your kidney or heart and should be given proper care when needed.
Beyond emergency dental treatments administered in cases of accidents or infections, prosthodontists can help enhance your dental features and give you a better smile.
You should see a prosthodontist if you:
Have one or multiple missing teeth.
Have a retracted gum or spaces in between your teeth
If you just had a tooth removed
Have extensive cosmetic dentistry needs
Need to install implants for your missing teeth
Have sleep apnea or snoring disorders
Want to change, renew or maintain a prosthetic device
Have any serious dental problems or facial pain
Want overall cosmetic enhancement
In general, if you have any dental concerns that might require the repair or dental restorations of teeth, you should visit a prosthodontist.
Prosthodontic care is often needed as a matter of emergency. You must have a specialist within easy reach. Dr. Erica DeFabio of DeFabio Dental Design can offer emergency appointments from our Colts Neck dental office.
How can a prosthodontist help improve your health and overall well-being?
Prosthodontists have specialized training in modern procedures and techniques for treating critical dental issues. They are best positioned to help improve and restore maximum dental function and aesthetics.
Very few dental specialists understand the dynamics of a perfect smile better than prosthodontists. You can safely entrust the maintenance and preservation of a perfectly healthy mouth to a prosthodontist.
A Prosthodontist will improve your oral health through:
Cosmetic Dental Surgery
We all love perfect teeth but not all of us have them as a natural endowment. Are you unsatisfied with your natural dental features? Do you think your smile can be improved? Would you like to change your teeth color, arrangement, size, or general look?
A prosthodontist can help you get the smile of your dreams.
Treatment of Complex Dental Conditions
Prosthodontists handle dental cases that are beyond the capabilities of general dentists. If you realize you have a serious dental condition that requires advanced professional care, then you should see a prosthodontist.
Replacement and maintenance of teeth
Prosthodontists specialize in the replacement of damaged teeth. Beyond this, a dental specialist can also help maintain your overall dental health by developing the best treatment plan when it comes to replacing missing teeth, cosmetic concerns, and fixing temporomandibular disorders.
Prosthodontists versus General Dentists
Dentists are the most popular oral care providers. They are the go-to for teeth and mouth care. Many people are not even aware of the role of other oral specialists such as prosthodontists, orthodontists, oral pathologists, and endodontists.
However, the role of a prosthodontist is quite different from that of a general dentist. Prosthodontists are trained to provide specialized oral care.
A dentist provides routine dental services and performs minor procedures. The services of a dentist include:
General dental cleaning
Cavity filling
Teeth repair and maintenance of oral health
A prosthodontist, on the other hand, has been trained intensively in tooth repair and replacement. Beyond dental care, prosthodontists cater to general human maxillofacial structures, that is prosthetic replacement of the head and neck features. They also offer dental surgery.
Although, some dentists have received supplementary training and are qualified to perform certain specialized dental procedures. Yet, a general dentist differs from a Prosthodontist.
Prosthodontist vs. Endodontists
Another dental care specialist whose role is similar to that of the prosthodontist is the endodontist.
Endodontics refers to dental care that deals with the root canal or tooth pulp. It caters to issues affecting the insides of the tooth.
The enamel and the dentin are the two outermost layers protecting the tooth carnal. However, these layers are susceptible to wear and breakage due to tooth decay. This can lead to a lot of sensitivity and pain. Endodontists are trained to treat these conditions.
While prosthodontics and general dentistry deal with the enamel, i.e. the outer layer of the tooth, endodontics care for the innermost structure.
An endodontist is a specialist, trained to diagnose and treat all dental problems regarding tooth pulp. The services of an Endodontist include:
Treatment of injury and cracks involving the tooth pulp
Root canal treatment
Apicoectomy
Treatment for traumatic dental injuries
Endodontic retreatment
Dental implants
All endodontists are dentists but very few dentists are trained to conduct endodontic procedures.
Final Thoughts
In recent times, we have witnessed a lot of development in the medical space thanks to seasoned scientific research and technology. This means that large oral restorations are within reach.
Ranging from new equipment and more effective techniques you can now easily access all the care you need to maintain and improve your oral well-being.
With the right prosthodontist, all dental solutions and treatments are within reach, and the smile and functionality of your dreams can be attained.
Click here to schedule an appointment with Dr. Erica DeFabio, a prosthodontist located at DeFabio Dental Design in Colts Neck NJ or call 732-780-7790.
Get In Touch
Take the first step in achieving the smile of your dreams
"*" indicates required fields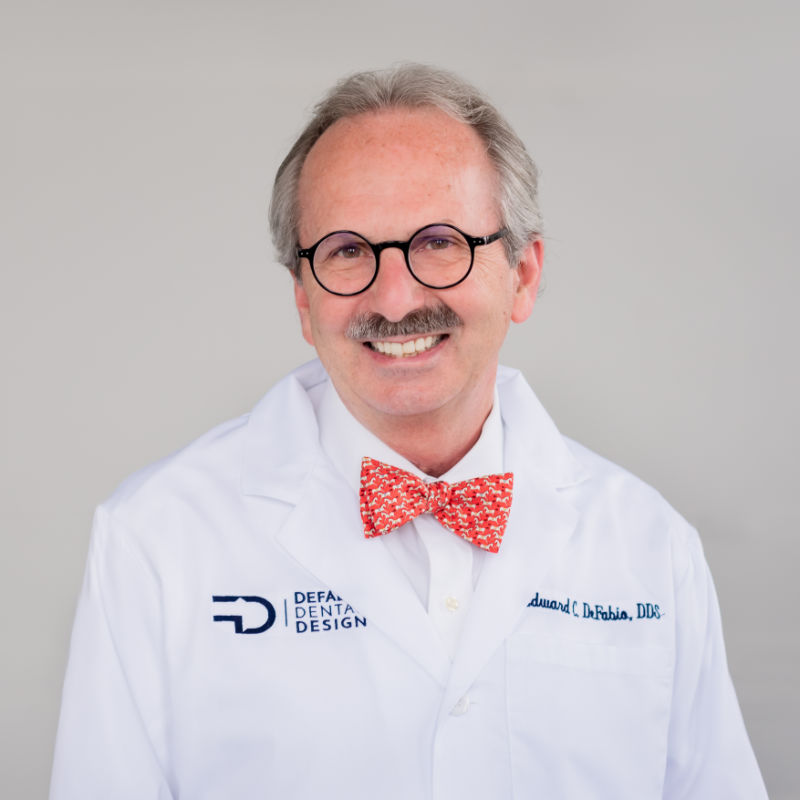 Dr. Edward DeFabio, DDS
Dr. Edward DeFabio of DeFabio Dental Design is a "Jersey Boy." He grew up in Short Hills, attended Newark Academy, earned his Bachelor of Arts degree in Chemistry from Middlebury College and his Doctor of Dental Surgery degree from Georgetown University School of Dentistry.
After finishing school, Dr. DeFabio opened the doors to his dental office in Colts Neck and has maintained this practice location ever since. His professional interests are esthetics, adhesion dentistry, minimally invasive microscopic dentistry, advanced restorative dentistry, removable prosthodontics, and endodontics.