A full-mouth dental restoration may be life-changing if your smile has been affected by significant trauma or deterioration of your natural teeth. This treatment, sometimes known as a complete-mouth repair or dental restoration, combines numerous methods to correct significant smile flaws and restore your teeth to their natural gleaming luster.
Do you need Full-Mouth Reconstruction? 
If you answer yes to one or more of the following questions, you may be a great candidate for full-mouth reconstruction:
Do you need to replace missing teeth?
Are several of your teeth damaged by tooth decay or gum disease?
As a result of grinding or injury/trauma, are your teeth are severely worn?
Do you have a genetic condition that causes your teeth to be sparse or deformed?
Do you have large fillings that have damaged the health of your smile?
Are your dental problems too numerous to be resolved with a single treatment?
To sum it up, a dental restoration procedure might be the best option for anybody seeking a major smile makeover. Whether you have several missing teeth or need a full-mouth reconstruction DeFabio Dental Design has the skill to return the appearance and function of your smile.
What Exactly Does A Full-Mouth Reconstruction Involve? 
A thorough tooth cleaning is typically the first step in a full-mouth oral restoration. Any cavities, gum tissue bacteria, or inflammation will be treated by the dentist so that the mouth is healthy enough to support the major dental restoration procedures ahead. A dental professional may recommend fluoride treatments, dental fillings, scaling, root planing (deep cleaning), root canal, or—in some cases—tooth extractions based on the amount and type of damage to the mouth and the steps needed to get your dental health ready for the work ahead.
Once the initial prep work is completed, the following procedures will vary. They may include one or more of the following:
Dental implants
Dental bonding
Bone grafts and sinus lifts
Crowns and bridges
Braces/Invisalign
Porcelain inlays and onlays
Porcelain veneers
Fixed Partial Denture
During your first appointment, your dentist will examine your teeth and overall oral health using X-rays and a very thorough examination. Then they'll be able to suggest the ideal treatments for you, combining cosmetic and restorative benefits, so that you end up with the tooth restoration of your dreams.
Dental Implants
If your smile is to be entirely rebuilt because it has been compromised enough to require a total replacement, you're probably missing teeth or teeth that are beyond repair. The good news is that dental implants have made significant improvements in recent years and have a high success rate. They are very natural-looking and may endure a lifetime.
The implant procedure is broken down into three stages: first, the post is put in place; then, the abutment; and, lastly, the crown. These procedures are spread out to ensure you have ample time to heal. The whole process can take about 6 to 9 months. You'll generally be given a temporary denture while you wait for your real teeth to heal.
Bone Grafts & Sinus Lifts 
An oral surgeon can improve your facial attractiveness and bone density with a bone transplant or sinus lift if jawbone damage is a concern. Extra bone material (usually from an animal, a donor, or elsewhere on your own body) is implanted into the jaw with a bone transplant. It takes root and eventually matures into the existing bone over time. It is formed in the maxillary sinus and placed beneath the upper jaw's maxilla.
The upper and lower jaw bone grafting procedure has its own set of aesthetic advantages, but it is most often used in tandem with dental implant surgery. A bone transplant will be used first if the jaw lacks the required bone density to support implants. Because common bone grafts have a 99 percent chance of success, they are an excellent option for most people who would otherwise be unsuitable for implants.
Dental Crowns 
Dental crowns may be a good option for individuals who have teeth that are solid enough to support but have some structural and cosmetic issues. Dental crowns are similar to implants in that they're made of porcelain. They're put over existing teeth rather than being surgically inserted into the mouth, much like dental bridges and Invisalign® clear aligners. Consider them to be tooth-shaped caps that provide structural support while also enhancing the appearance of your smile.
A crown may be an option for you if your tooth is cracked but still firmly connected to the root. If tooth decay has advanced to the point that a crown is needed, it will be necessary for the dentist to repair it before the crown is installed. If the tooth root is damaged or severed, the dentist may advise extracting the tooth and placing a bridge or implant instead of restoring it.
Dental Bridges 
A dental bridge is made up of several crowns that have been bonded together. It's typically utilized to close the gap where a single tooth has fallen out—or "bridging" the space. A bridge is a tooth-colored restoration that is custom-built to restore the appearance of your teeth. For example, if one of your teeth is damaged and surrounded by two healthy teeth, a bridge may be used in the vacant area. A false tooth (or pontic) is linked to crowns on both sides. The healthy (or damaged) teeth are covered by crowns, while the pontic mends the space.
The majority of dental bridges are composed of porcelain, which is the most long-lasting, stain-resistant, and natural-appearing material available for most tooth restorations. As a result, it is the gold standard among dentists.
Braces and Invisalign 
Braces are occasionally used in conjunction with complete-mouth restorations to correct teeth that are sound but misaligned. Most of your natural teeth must be intact for this treatment. Braces are frequently the first stage in a smile makeover that also includes veneers and other cosmetic enhancements.
Traditional braces are quite invasive and might need two years to complete. That is why more and more dental practitioners, like Dr. DeFabio, a Colts Neck dentist specializing in dental restorations, are turning to clear alternatives like Invisalign. Invisalign transparent aligners are virtually undetectable (and can be removed after 12 to 18 months).
Porcelain Inlays and Onlays 
Onlays and inlays, which are made of porcelain, are popular and high-quality alternatives to traditional fillings. Inlays and onlays can help you restore your teeth if you have cavities, or if the natural teeth need some reconstruction. Inlays and onlays may be the answer for both of these scenarios.
Despite the fact that they have the same basic function as traditional fillings, they are made of porcelain and resemble natural tooth enamel, so there are no unsightly discolorations or gaps. The porcelain material blends in with the surrounding enamel.
Porcelain Veneers 
Porcelain veneers are a non-invasive treatment that gives your teeth a more youthful appearance by correcting minor issues such as discolored enamel or cracked teeth. A veneer is a thin shell (typically constructed of porcelain) that is placed over the front of a tooth to match the color and form of the neighboring teeth. It is often used to conceal a misshapen tooth structure, discoloration, misalignment, or other cosmetic problems.
Dental veneers, when used as part of a comprehensive mouth restoration, are usually the final step. Your dentist can take your smile to the next level by correcting any remaining aesthetic concerns once the restoration procedures have been completed. Because they can conceal even severe cosmetic flaws, porcelain veneers are ideal for this purpose. They can also be made to fit almost every kind of tooth, and they come in a wide range of colors. Some individuals even use them for crowns or veneers, as long as the restorative materials are high-quality porcelain and placed by a skilled cosmetic dentist.
How Long Does a Comprehensive Oral Reconstruction Take?
The time needed for a complete-mouth restoration varies based on the severity of the harm and the measures taken. In most situations, however, a talented dentist and oral surgeon should be able to finish the operation in 1 to 3 years.
If you require implants, prepare for a minimum of 6 months to a year for the complete round of implant operations. After the first posts are placed, they might take up to 6 months to heal. Then the abutments are put in place, after which you'll need a few more weeks to fully heal. Finally, the dentist fits the crowns. This might add anywhere from three to four months to the treatment process if you require a bone graft or a sinus lift. You'll need a temporary denture throughout the procedure to conceal the work in progress and preserve your smile.
If your teeth are damaged and need to be straightened, you may anticipate a one-to-two-year healing period for the braces or Invisalign. Most patients won't notice this portion of your therapy if you use a transparent approach like Invisalign.
Smaller operations—such as crowns, bridges, and veneers—may often be completed in a few weeks. Most restorative dentistry procedures take only a few weeks to complete, with most of the work occurring in the lab. In most circumstances, these treatments may be finished in just 2 to 3 visits.
What Is the Cost of a Full-Mouth Reconstruction? 
The cost of a full-mouth reconstruction varies greatly based on the complexity of the procedure and other factors. A full set of dental implants have a high upfront cost, ranging from $40,000 to $60,000 on average (though this can vary), and more minor treatments like veneers and crowns might cost anywhere from $900 to $2,500 each tooth. Invisalign therapies usually range in price between $3,000 and $7,500.
Unfortunately, most insurance companies still refuse to cover dental implants, but certain other aspects of dental restoration may be reimbursed (at least in part) if you have a genuine restorative need. For example, many dental insurance plans cover crowns and bridges. Some policies might cover the expenses of an Invisalign treatment in part.
Flexible payments are available for those elements of your full-mouth reconstruction that are not covered by insurance. Your dentist may work with you to determine the true cost of your replacement (accounting for any covered operations) and assist you in sorting through your financing alternatives. The expenditures might appear high, but there are always choices.
How to Choose the Best Dentist for a Full-Mouth Restoration 
A complete-mouth restoration is a time-consuming procedure that necessitates the assistance of an expert hand (or, in many cases, several expert hands). The skills of a typical neighborhood dentist may not be sufficient to handle the intricacies of such a treatment plan.
Be sure to choose a dentist that: 
Has a lot of experience with dental restorations and all of the dental restoration procedures involved. A very experienced NJ cosmetic dentist or a Prosthodontist is the best option to make sure they have the training to provide a full-mouth reconstruction.
Has an extensive history of success when it comes to these kinds of dental restorations.
Is gentle and understands dental anxiety by taking their time and working with you.
Offers financing options and helps you submit your claims to your dental insurance to try and get as much of the dental treatment covered as possible.
Is a member of the American Dental Association.
Talented cosmetic dentists and prosthodontists can offer truly life-changing results using modern technology and procedures. If you have been on the fence about whether or not to get a consultation to get the smile of your dreams hopefully it seems less intimidating. Contact us to schedule your NJ dental restoration consultation.
Get In Touch
Take the first step in achieving the smile of your dreams
"*" indicates required fields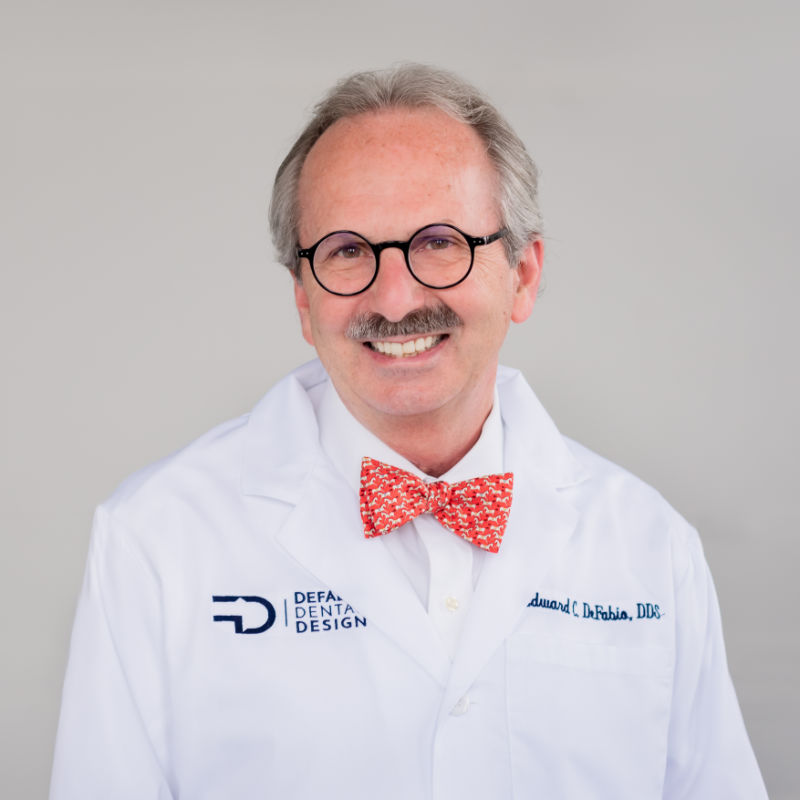 Dr. Edward DeFabio, DDS
Dr. Edward DeFabio of DeFabio Dental Design is a "Jersey Boy." He grew up in Short Hills, attended Newark Academy, earned his Bachelor of Arts degree in Chemistry from Middlebury College and his Doctor of Dental Surgery degree from Georgetown University School of Dentistry.
After finishing school, Dr. DeFabio opened the doors to his dental office in Colts Neck and has maintained this practice location ever since. His professional interests are esthetics, adhesion dentistry, minimally invasive microscopic dentistry, advanced restorative dentistry, removable prosthodontics, and endodontics.