Veneers are a great way to improve your smile with a simple cosmetic dental treatment. Veneers are usually made of porcelain since it is such a long-lasting material. This indicates that you may consume a variety of meals and beverages without fear of damaging your new veneers. Even though porcelain veneers are robust, they may be damaged through contact with a variety of materials. There are a few things you should avoid if you want your veneers to last.
There are a lot of myths about what you can and cannot eat after getting veneers. Today we are going to clarify this for you.
Is It Safe to Eat Apples With Veneers?
It's a good idea to be cautious when consuming hard things like raw apples and carrots. It's possible to shatter your veneers if you bite down on hard foods. Chewing with your back teeth, rather than the teeth where the veneers are inserted when eating hard foods, is beneficial to your dental health.
This applies to porcelain veneers particularly. If you have more delicate veneer materials such as composites, you must be even more cautious and should avoid eating anything particularly hard.
Is It Safe to Eat Candy With Veneers?
The main foods you want to avoid when you have veneers are hard sweet candies. No matter the type of veneers you have, including porcelain, these kinds of candy should be avoided. Candy that melts in your mouth, like a Jolly Rancher is considered safe as long as you avoid biting down on them.
Is It Safe to Enjoy Pizza with Veneers?
Yes, it is perfectly safe to enjoy pizza with veneers. The toppings and crust are unlikely to strain the veneers or bonding. Just be cautious when you're biting into really crispy pizza crust. It is recommended to avoid pizza while you're wearing your temporary veneers.
Is It Safe to Eat Corn With Veneers?
If you have permanent veneers, you can eat corn on the cob. Just make sure you don't bite down on the cob too hard. The objective is to gently peel the corn away from the cob's surface. Corn on the cob should also be cooked since raw corn might put additional strain on your veneers.
Is It Safe To Eat Steak With Veneers?
It's possible to consume steak if you have porcelain or other long-term veneers. It's best to cut the meat into little pieces before eating. When biting into or pulling against a bone, such as with a ribeye or T-bone steak, avoid putting strain on the veneers by avoiding biting into or pulling against the bone itself.
Is it Safe to Chew Gum With Veneers?
When you have porcelain or composite veneers, chewing gum is usually not an issue. It will not be able to get under the veneers because of the bonding material. Plus, most people chew gum with their molars which do not get veneers. The thing to watch out for with gum is that sweetened gum can cause cavities. If you get a cavity in your natural teeth near the veneers it can affect the integrity. So we recommend if you chew gum often, go with sugarless gum just to be safe.
Is It Safe to Eat Chips With Veneers?
Whether you love potato chips, corn chips, or tortilla chips, you should be just fine consuming your favorite chip with veneers, in moderation. The chips won't affect your veneers, but poor nutrition can cause gum disease which can affect your veneers. For example, diabetes is linked to gum disease and tooth loss due to the elevated glucose levels in the saliva of diabetic patients.
Is It Safe to Drink Alcohol With Veneers?
If you have veneers, you should limit your alcohol intake. Aside from the health risks connected with light to moderate drinking, overuse of alcohol can also cause the bonding material to thin over time.
It also means that the veneer might become out of alignment and need to be replaced before it is due. Veneers are also more susceptible to chips and fractures if they do not have a solid connection. While high-quality porcelain veneers (which is done by a cosmetic dentist) can generally endure for 15 to 20 years if properly cared for, the lifespan may be much shorter if you drink excessively.
Is it Safe to Smoke With Veneers?
With veneers, you should never smoke or use any other type of tobacco product. Smoking has a number of negative health consequences, and while it's unlikely to damage the porcelain typically used for veneers, it can discolor the teeth around it. Because of this, over time your veneers may appear odd as they no longer match the color of your other teeth. The bonding material used in veneers can also be stained by cigarette smoke.
Is it Safe To Drink Coffee & Tea With Veneers?
Because porcelain is nearly stain-proof, it will not be stained by coffee, tea, soft drinks, red wine, or other dark beverages. However, dark liquids can stain the bonding material, leaving you with a yellow or brown tinge along the margin of your tooth. While the chances of stains are typically low, it's still preferable to sip these drinks with a straw to ensure that the liquid goes directly to one's mouth.
If you have composite veneers, take extra caution since these lower-quality coverings might get dull or discolored over time. If you have heat-activated temporary veneers, you should avoid all hot beverages.
Foods to Avoid If You Have Veneers
Most foods are fine to eat with permanent veneers, especially if they are porcelain veneers. Dentists use porcelain because of its strength. Porcelain is also nearly stain-resistant and keeps its shine. If you have porcelain veneers be careful of these foods:
Hard candy you chew
Carrots, apples, bone-in meats
Beverages that can stain like coffee, red wine, and tea
Tobacco products as they create stains
Alcoholic beverages can damage the bonding
What Foods Should You Avoid When You Have Temporary Veneers?
Temporary veneers are different. They are very fragile and require more precautions. If you currently have temporary veneers avoid the following foods:
Hard raw fruits
Popcorn
Ice Cubes
Bone-in Meats
Foods that stain, ketchup, wine, etc.
Toasted or very crunchy bread
Caramels and other sticky foods
Hot and cold beverages
With porcelain veneers, you may enjoy your favorite foods without sacrificing appearance.
Dental veneers are extremely popular in the field of aesthetic dentistry. Influencers adore them, and the general public is demanding for them. If you're thinking about getting veneers, however, you should choose high-quality porcelain. They might cost a little more, but they provide for a more lasting restoration that allows you to enjoy virtually all of your favorite foods and beverages without restriction.
By simply following these common-sense methods you can protect your veneers and your dental investment and enjoy your new smile. Contact us today to learn about your cosmetic dentistry options.
Get In Touch
Take the first step in achieving the smile of your dreams
"*" indicates required fields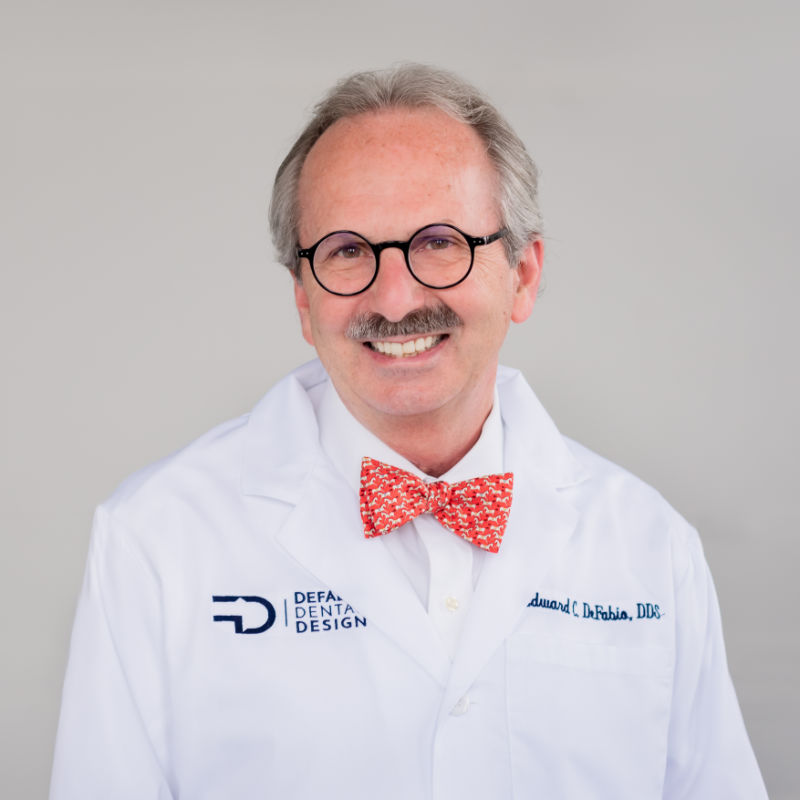 Dr. Edward DeFabio, DDS
Dr. Edward DeFabio of DeFabio Dental Design is a "Jersey Boy." He grew up in Short Hills, attended Newark Academy, earned his Bachelor of Arts degree in Chemistry from Middlebury College and his Doctor of Dental Surgery degree from Georgetown University School of Dentistry.
After finishing school, Dr. DeFabio opened the doors to his dental office in Colts Neck and has maintained this practice location ever since. His professional interests are esthetics, adhesion dentistry, minimally invasive microscopic dentistry, advanced restorative dentistry, removable prosthodontics, and endodontics.